Ticket Summit Welcomes: Dan DeMato!
The Ticket Summit Team welcomes Dan DeMato, Principal at FutureTix.
Dan DeMato has recently left his long-term position with the New York Mets as Senior Director of Ticket Operations to operate his newly formed full-service ticketing consulting company, FutureTix, Inc. During his 23-year tenure with the New York Mets Dan had oversight of a high-tech, fast-paced ticketing operation that processed in excess of four million tickets per year. DeMato's current focus is implementing revenue generating ticketing initiatives while maintaining the integrity of operating controls.
DeMato has been a leader in ticketing technology pushing forward the concepts of both dynamic and variable pricing, primary and secondary market integration, as well as helping to launch a new bar-code stored value ticketing initiative called, Uptix. Separately, and in addition to FutureTix, he has formed an alliance with Dan Bartlett, Founder and CEO of SplitSeasonTickets, LLC., to introduce this new season ticket sharing social-networking technology and services to the ticketing industry. As a longtime industry member Dan has been a speaker at INTIX, NATB, PacNet, TDC Summit, and MLB Conferences.

Lock in your booth!
Are you looking for opportunities to showcase your company to a broad audience and build valuable business relationships? Become an exhibitor at Ticket Summit Vegas in July!
Check out the floorplan of our exhibition space at The Venetian Resort Hotel Casino.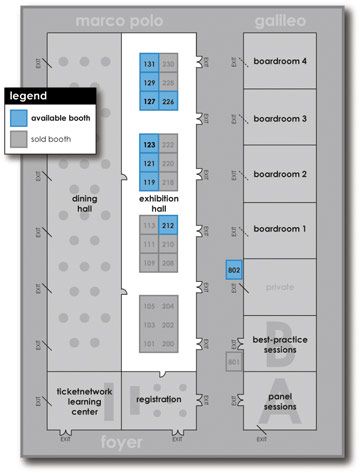 For more information on becoming an exhibitor, please call 860-870-3400 x127 or visit our website at www.ticketsummit.org.