Ticket Summit Welcomes: Jeff Eglen!
The Ticket Summit Team welcomes Jeff Eglen, Vice President of Strategy at Digonex.
Eglen is a 1984 graduate of Purdue University with a B.S. in Industrial Management. Jeff joined Digonex as Vice President of Strategy in December 2004 after working at Accenture for over 20 years.
Over the course of his career, Jeff has worked with a number of Fortune 500 clients, governments and alliance partners such as Microsoft, Avanade, eBay, SAP, PeopleSoft and Oracle.

Save on hotel rates through June 22!
Now one of the great 5-diamond resorts, The Venetian Resort Hotel Casino offers the most lavish suites on the famous Las Vegas Strip. It includes an all-suites, 50-floor luxury hotel tower with 3,500 rooms.
The 105,000 square-foot casino has 1,900 slot machines and 80 table games. The Venetian also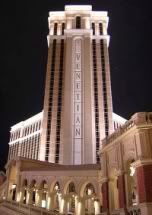 hosts an enclosed shopping, dining and entertainment complex which connects with the Canal Shops.
Don't wait too long to book your hotel room! The special discount rate of $139/night available to Ticket Summit attendees is only valid through June 22nd!
Contact The Venetian Hotel to reserve your room at the address or phone number listed below, or by clicking here.
3355 Las Vegas Blvd. South
Las Vegas, NV 89109
877.857.1861
Book your room now at the low rate of $139/night.
* Tax not included. Offer is only valid through June 22, 2009.